Every day, thousands of people fall victim to fraudulent calls, emails and texts from scammers pretending to be from their bank.  
First Bank's top priority is to keep our customer's information and accounts safe.
Occasionally, First Bank staff may need to reach out to you via phone or email.  We will

never

contact you to ask for your username and password, account number, PIN, or one-time verification code.  Additionally, we will never send you a text message with a link to online banking. 
Never share your information over the phone, text or email.
If you ever question the legitimacy of a call, text or email, call us at (319) 352-1340.  Don't redial or reply to the phone number or email address that has contacted you.
For additional tips on how to keep your personal information and accounts safe, read the tips below for Digital Banking Safety.
The fraudsters are at it - again! 
New schemes and fraudulent activities are unfortunately a common occurrence.  Be aware of the latest tactics used by fraudsters, who want to capture your personal and financial account information. 

Jump below to learn more about Home Warranty scams and other fraudulent activity and scams.
What To Do If You've
Been Scammed!
Scammers can be very convincing. They call, email, and send us text messages trying to get our money or sensitive personal information — like our Social Security or account numbers. And they're good at what they do.  Here's what to do if you paid someone you think is a scammer or gave them your personal information or access to your computer or phone.
Go to 
IdentityTheft.gov
to see what steps to do right away, what you need to do next and other possible steps, including how to monitor your credit.
When you report a scam, the FTC can use
the information to build cases against
scammers, spot trends, educate the public,
and share data about what is happening in
Digital Banking Safety Tips
Banking online has made managing money a lot more convenient – you no longer need to visit the bank to transfer funds or wait for the next paper statement to know your account balance. All that information is at our fingertips. But while online banking has made things easier, it's also made things easier for identity theft.
Criminals don't need to plan a heist to rob someone's bank account to gain access to your funds. All they need to do is wait for you to let your guard down and expose your personal information or they send out a virus that will collect the information.
The only way to avoid becoming a thief's next victim is to carefully guard your personal information and always practice these online banking safety tips.
Don't access your bank accounts on public Wi-Fi.
When you're on public Wi-Fi, hackers can more easily access your computer or mobile device to steal your personal information. You should never access the bank's website through a computer, tablet, or cell phone unless you're on a secure Wi-Fi network with a password or using your own cell phone data connection. This is much more difficult for thieves to hack, so it keeps your information safer.

Avoid saving your login information.
Some websites give you the option to save your login information for future use, but if someone uses your computer or mobile device after you, they could gain access to your bank accounts. To at least help prevent this from happening, many banking sites now time out after a certain number of minutes of inactivity, and do not save your information.

Use strong passwords and change them often.
Strong passwords have a mix of upper- and lowercase letters, numbers, and symbols. Many banks, including First Bank, now require your online accounts to use a password meeting these requirements. You should also change your password every couple of months and use different passwords for all your online accounts so that hackers will have a more difficult time gaining access to your information.

Use two-factor authentication whenever possible.
Two-factor authentication (2FA) is the next level of security that many banks are now offering. First Bank recently implement the 2FA process as a part of the new Digital Banking platform. 
This process will usually require you give your bank your phone number, and it texts a code when you log in online. Some banks also enable you to request a code via email or a phone call. You must enter this code in addition to your password to log in. This way, even if someone has stolen your password, they cannot access your accounts. It's another hoop to jump through, but it could help keep your money safe, so set it up if your bank offers it.

Keep your computer updated.
Outdated computers and mobile devices may not be secure enough to protect your personal and financial data against the latest computer viruses. If your computer gets infected with a virus, a hacker could gain access to your bank accounts without you knowing it until your money is gone. Always perform your computer's recommended updates as soon as they become available and install antivirus software on your computer.

Always type your bank's web address into your browser yourself.  Some hackers send out "phishing" emails that appear to be from your bank. They're hoping you'll enter your login information at their fake version of the bank's site. Never click on links in emails that appear to be from your bank, even if they look legitimate. Instead, type the bank's web address into the URL bar yourself, or use a search engine to find the correct web page. You can bookmark the right page for later use.

Monitor your account regularly.  Following the above precautions should keep others out of your bank account. The only way to make sure is to check your account balances and transaction history regularly, and make sure your money isn't going anywhere it isn't supposed to. If you notice suspicious activity, change your account password, and contact your bank immediately.


Use your financial institution's app to connect.  For best practices, download your financial institution's app instead of using a browser to get to the site and log in. Apps are designed with greater security than a browser. Some apps offer enhanced security tools, such as Touch ID, use these beneficial tools for added safety.

Download additional security tools.  Since your financial data is of such importance, you will want to install any barriers to protect your information and keep unwanted people out of your mobile device. Many devices have Touch ID or facial recognition tools as options to install. Set up these features if they are available. This will create another obstacle between your data and others gaining access to your phone.

Delete apps and information before you retire or hand over your unneeded phone.  If you are upgrading your phone or giving it to someone else, be sure to delete your personal information. This includes deleting any apps that connect to your financial institutions or private data.

If you lose your phone – contact your financial institution(s). If you were to lose your credit or debit card, you would call your financial institution to let them know. The same applies if you lose your phone. Contact the financial institution and follow their steps on how to disable mobile banking.
A new scheme – commonly known as "Zelle Fraud" – helps fraudsters bypass Dual Factor Authentication (DFA) set up on the customer's financial accounts.  Watch this video from Jack Henry Fraud Prevention on what to watch for and how to protect your accounts!
Have you received a notice from First Bank saying your property's home warranty is about to expire? Or offering you a better rate for your mortgage loan?  We have!  And after reviewing these mailings, we can confirm that these did not come from First Bank and our recommendation is to shred these notices upon receipt.
If you haven't received one of these letters or postcards, what do you need to look for? These letters may come from Home Warranty Direct or Mortgage Company, or other similar companies saying they are the provider of your home warranty and reference the name of your financial institution or the name of a mortgage lender.  The letter will ask you to respond by a certain date and warns that failure to respond could result in a potential loss of coverage.
Typically, whenever threatening language or undue urgency is used, then it is likely the communication is coming from a scammer.
At First Bank, we do not sell or distribute any private and non-public information to non-affiliate third parties.  However, some information about mortgages, regardless of what lender you work with, is public record. That's how scammers like this can obtain your contact information.  Often, you can recognize a likely scam when the account number that is referenced does not match your loan account number with your financial institution.
If you want to verify the legitimacy of the letter, we suggest that you call First Bank or your financial institution directly, and not call the number listed on the notice.  Calling the number listed may connect you with a real person, or it may direct you to an automated recording. In either case, it is important that you do not give out your personal information. Doing so could result in terrible consequences in relation to your privacy and finances.
If you have received a letter similar to this, the best thing to do is disregard the notice and dispose of it in the trash or we recommend shredding these types of documents.  If you have additional questions or are unsure what steps to take, please call First Bank and we'll confirm with you the notice.
SAMPLES: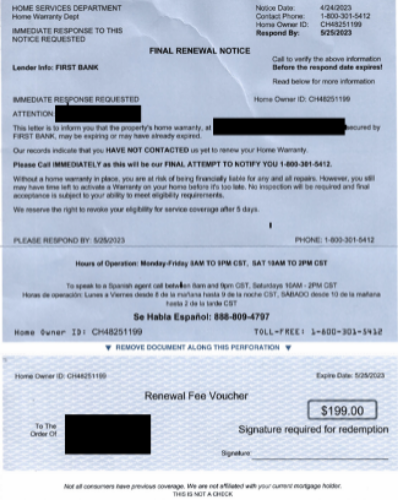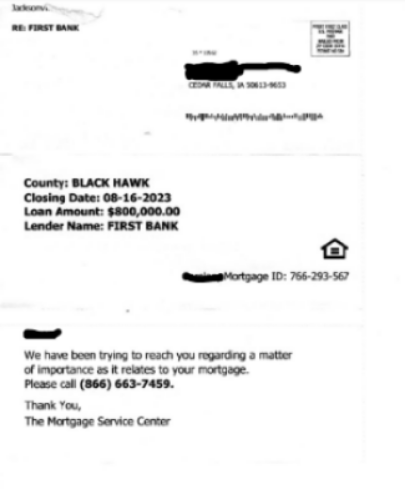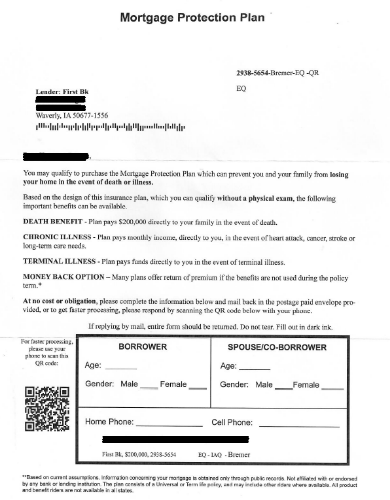 Mail Theft-Related Check Fraud Schemes
A surge in crimes targeting the U.S. Postal Service has some experts warning Americans against sending their checks through the mail. Fraudsters are targeting mailboxes, either stealing letters directly from residents' homes or from the blue USPS collection boxes.  The theft issues have prompted the USPS to advise that Americans avoid depositing mail in blue collection boxes or leaving it in their own mailboxes for a carrier to pick up. Instead, the agency is now recommending that patrons come inside their local post office to securely send mail.
Publishers Clearing House 
Publishers Clearing House (PCH) is a legitimate sweepstakes, but there are many scams that use the PCH name and logo to take your money. Are you a lucky winner, or are you being scammed?
Call PCH If you receive any communication ostensibly from PCH that you believe is a scam, please notify them at 1-800-392-4190.